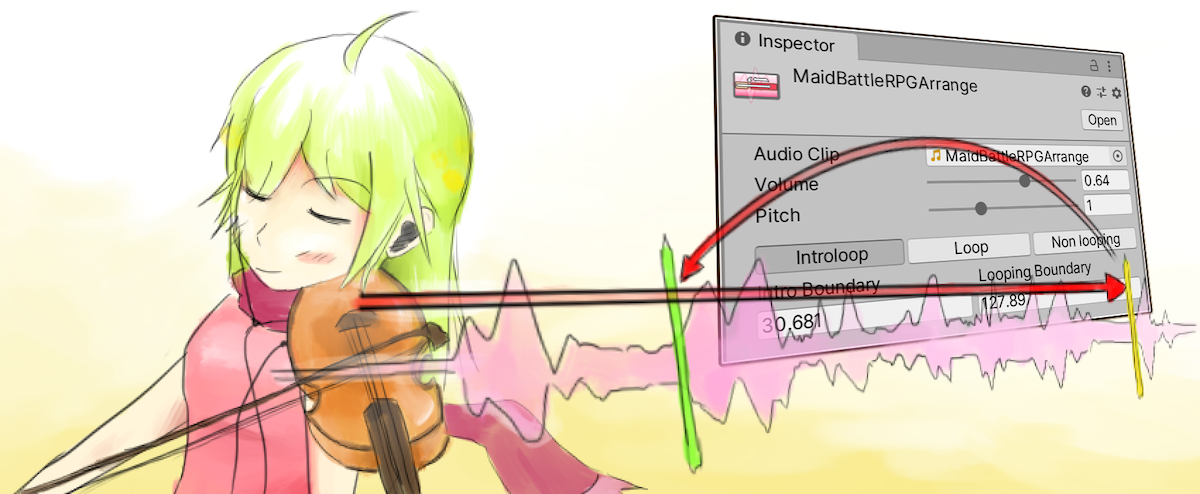 Introloop
Easily play looping music with intro section.
Less than 1 minute video explanation of what it is
Get that charm of a polished game. Adds huge value to music. Directs player's feel with an intro. Gives every song a memorable and immersive feeling which can't be put in an OST.
What could Introloop do?
In Unity if you select "Loop" in AudioSource, the song will loop to the beginning when it reaches the end of file.

But with Introloop, you can specify 2 time points "Intro Boundary" and "Looping Boundary" in your audio. Playing your audio with this plugin will loop back to Intro Boundary when it reaches Looping Boundary, effectively make the section before Intro Boundary an intro section that plays only once and the rest will be looping.

Those two points of time are stored in a separated asset file called IntroloopAudio file. Think of it as an instruction accompanying your original audio (the normally imported AudioClip). You will then use an IntroloopPlayer to play it.
With a singleton access point to both instantiate (if not yet) and get the player, it is as simple as IntroloopPlayer.Instance.Play(myIntroloopAudio).
No need to place any special GameObject manually on your first/any scene. It is a modern asset-based design. You can start the play mode from any scene like usual.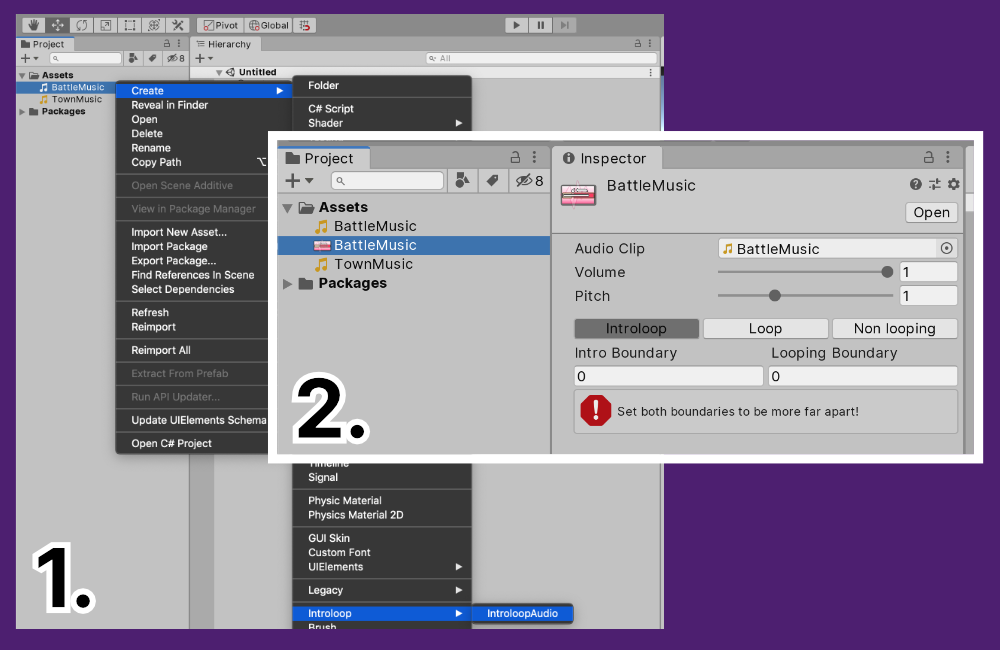 Your original audio file will remains intact. There is no need to cut it up to 2 files like some other solutions. Updating songs from your composer is as easy as overwriting the audio file. As long as the song structure doesn't change, your IntroloopAudio will still works.
Why is this necessary?
It is a common practice used in many commercial games. Intro adds huge value to music, turning into a powerful tool for directing player's feel and blends more into gameplay.
Maybe if you haven't noticed this before, in this section I will show various examples from games I liked.
Let's recall memorable moment from favorite games you have played. A destined fight with arch rival? Roaming over world map for the first time? An opening stage that really hooks you that you can't put down the joystick?
Wondered why they stuck so well in your memory?
Many commercial game music has certain charm when you are listening to it in the game because they have been programmed to have a nice intro that sets the mood of that particular scene before transitioning seamlessly to a music loop, never having to play the intro again.
This is the source of immersive feeling you never get when you listen to the song again in an OST or YouTube. You must experience it in the actual game.
RPG gamers knows the "random encounter". In theory it may get really boring after a while, but it works so well and always so exciting partly because of music's intro that really tell you "let's fight!" but at the same time never loop to that intro again, keeping the intro powerful and fresh on every new fight.
Intro also make the music more memorable, as the player heard the intro he/she will be subconsciously already preparing to hum to the verse.
So basically...
Your tune (and in turn, your game) will be much more memorable and less boring. Exaggerate certain feel in your scene more by incorporating a song intro into the design.
Actually I'm surprised that I haven't seen any audio plugin doing this, something so prevalent on commercial games. It's about time to appreciate the intro.
Advantages
No need to cut the actual file into 2 parts.
Because of that you can use any compression (like OGG) without fear of messing the precision at the head and tail of audio file. Feel free to utilize the Unity's compression quality slider - and any other audio settings built-in. It even works with Streaming load type.
It is easy to experiment and adjust the loop point right in Unity. In a splitting clips solution you will have to cut the music over and over again until it is seamless enough.
Updating music from your composer is easy, as long as the song structure is the same you can just replace the whole music and use the old boundaries.
Automatic audio memory releasing at appropriate time. Perfect for mobile project. This is not the case in Unity as even after the song has stopped it will be still in your RAM.
Supports pause, resume, fade in, fade out and even cross fading between introlooping audio.
Built in pop/clicks reduction when stopping the music suddenly.
An asset-based design allows you to have more metadata per audio, such as a default volume. This is not possible in an imported AudioClip.
Supports time operation such as seeking or starting at a different time. Note that in Introloop the time is theoretically infinite. These operations are more complex than same thing you usually see in other audio API.
You could specify a constant pitch for each asset file. The loop scheduling is still dead-accurate.
Route the entire plugin to your game's AudioMixerGroup for your own higher level control. Casting epic spell and wanted to duck the BGM down? Just route to your mixer and use Unity mixer's ducking feature on it.
Modern plugin design. It is in a proper UPM (Unity Package Manager) shape with package.json, with a proper Assembly Definition Files, namespaced properly, internal utilized effectively, asset-based design will not clutter your scene with anything, and it came with no other assortments of audio features.
The license purchase came with full source code.
Requirements
Supported Unity versions : 2017.4.34f1, 2018.4.12f1, 2019.2.12f1 (All LTS and the latest TECH release at the time of publishing an update.)
Not supported on platforms with unusable/faulty PlayScheduled and other scheduling methods. (WebGL, as of 2019.1.1f1)
Learn more
Learn how to play your first Introloop in the Getting Started page.